First, a thought that have nothing to do with having been reading John.
I don't understand people who believe that most of humanity was created specifically to go to hell. These are some of the same people who condemn creating embryos for use in stem cell research (not saying they're wrong on that point, by the way). But these are the same things, aren't they? And it's just such a depressing way to think about God and humanity.
And now, on to John.
4 Now the Passover, a feast of the Jews, was near.
It's a little thing, but I think this line helps make it clear that the Gospels were written after the Apostles began to go after non-Jewish converts. After all, a Jewish convert would know what Passover was without the additional descriptive. It's only someone coming from outside the Jewish people who would need an explanation, however brief.
7 Philip answered Him, "Two hundred denarii worth of bread is not sufficient for them, that every one of them may have a little."
Okay, I was curious as to how much this was in 'real' money. According to the all knowing Google, one denarius was worth about $20 (I have no back up for this, it was a whim googling). So Philip was saying that they had about $4000 worth of bread. To feed 5000 people.
I feel like something is wrong with these numbers, to be frank. Because that seems like a lot of bread. If you're not expecting to feed these people for a very long time, it seems to me like you could do it with $4000 worth of bread. Bah. We're going to assume that the all knowing Google has failed me.
*ponders some more*
Okay, if the 5000 counts only the men then there would have been a lot more than just those 5000, adding in women and children. Yet they only mention feeding the 5000 men later on in the chapter. Another instance of only counting the men and implying that they fed everyone else too?
Either way. That's a lot of people to be fed and – you know, I was going to wonder where Jesus and the Apostles got all that money (because it was rather a lot of money), but really, is Philip saying that they had that much bread? Or is he saying that even if we had 200 denarii worth of bread, we still couldn't feed all of these people?
Random bread thoughts. I has them.
8 One of His disciples, Andrew, Simon Peter's brother, said to Him, 9 "There is a lad here who has five barley loaves and two small fish, but what are they among so many?"
The second. It was clearly the second option. It really has been a while since I read these stories, hasn't it? Maybe a case of familiarity breeding glossing over? After all, these are the stories we grow up on in Sunday School.
10 Then Jesus said, "Make the people sit down." Now there was much grass in the place. So the men sat down, in number about five thousand. 11 And Jesus took the loaves, and when He had given thanks He distributed them to the disciples, and the disciples to those sitting down; and likewise of the fish, as much as they wanted. 12 So when they were filled, He said to His disciples, "Gather up the fragments that remain, so that nothing is lost." 13 Therefore they gathered them up, and filled twelve baskets with the fragments of the five barley loaves which were left over by those who had eaten. 14 Then those men, when they had seen the sign that Jesus did, said, "This is truly the Prophet who is to come into the world."
This is one of those instances where (assuming it is meant to recount an historical incident) it either happened the way it's written (more or less) and there was a miracle or the author lied through his teeth. I can't think of any other reasonable explanation for that little food feeding that many people.
The other way to take it is that the miracle here is not meant to be taken as a literal event but as a point of theology. I can think of a couple of meanings for this story, but what do you guys think?
15 Therefore when Jesus perceived that they were about to come and take Him by force to make Him king, He departed again to the mountain by Himself alone.
How would you forcefully make someone king? Even if you grabbed them and popped a crown on their head, you can't make them rule, can you? Not for very long or very well, in any case. Still, I can see the point here of rejecting the idea of earthly power and rule.
19 So when they had rowed about three or four miles, they saw Jesus walking on the sea and drawing near the boat; and they were afraid. 20 But He said to them, "It is I; do not be afraid." 21 Then they willingly received Him into the boat, and immediately the boat was at the land where they were going.
Again an instance where I wonder about the stories and miracles that didn't make the cut that Jesus walking on water in the middle of a fierce storm is met with a shrug once they recognize him.
28 Then they said to Him, "What shall we do, that we may work the works of God?"
29 Jesus answered and said to them, "This is the work of God, that you believe in Him whom He sent."
I would suspect that this is one of the verses used to support a faith alone argument of Christianity.
30 Therefore they said to Him, "What sign will You perform then, that we may see it and believe You? What work will You do? 31 Our fathers ate the manna in the desert; as it is written, 'He gave them bread from heaven to eat.'"
Now in verse 26 Jesus says that they follow him not because they've seen the signs but because they ate of the bread and were filled. But isn't the bread a sign?
35 And Jesus said to them, "I am the bread of life. He who comes to Me shall never hunger, and he who believes in Me shall never thirst. 36 But I said to you that you have seen Me and yet do not believe. 37 All that the Father gives Me will come to Me, and the one who comes to Me I will by no means cast out. 38 For I have come down from heaven, not to do My own will, but the will of Him who sent Me. 39 This is the will of the Father who sent Me, that of all He has given Me I should lose nothing, but should raise it up at the last day. 40 And this is the will of Him who sent Me, that everyone who sees the Son and believes in Him may have everlasting life; and I will raise him up at the last day."
Direct claim of divinity or a statement of divine purpose? Depending on the theology some people believe that our souls pre-exist our bodies, so why couldn't Jesus have been speaking along the lines of a soul coming down from heaven to do God's work/will but not being divine in and of himself?
41 The Jews then complained about Him, because He said, "I am the bread which came down from heaven." 42 And they said, "Is not this Jesus, the son of Joseph, whose father and mother we know? How is it then that He says, 'I have come down from heaven'?"
Not hard to believe. After all, whether you think that Jesus was claiming divinity or just divine mandate, this is still a local boy suddenly claiming to be someone huge and important. A little incredulity is to be expected.
43 Jesus therefore answered and said to them, "Do not murmur among yourselves. 44 No one can come to Me unless the Father who sent Me draws him; and I will raise him up at the last day. 45 It is written in the prophets, 'And they shall all be taught by God.' Therefore everyone who has heard and learned from the Father comes to Me. 46 Not that anyone has seen the Father, except He who is from God; He has seen the Father. 47 Most assuredly, I say to you, he who believes in Me has everlasting life.
Undoubtedly a more direct claim of divinity. If everyone who has heard and learned from the Father comes to Jesus and the prophets are taught by God then Jesus must, in some respect, be God. Or at least claiming such.
48 I am the bread of life. 49 Your fathers ate the manna in the wilderness, and are dead. 50 This is the bread which comes down from heaven, that one may eat of it and not die. 51 I am the living bread which came down from heaven. If anyone eats of this bread, he will live forever; and the bread that I shall give is My flesh, which I shall give for the life of the world."
52 The Jews therefore quarreled among themselves, saying, "How can this Man give us His flesh to eat?"
53 Then Jesus said to them, "Most assuredly, I say to you, unless you eat the flesh of the Son of Man and drink His blood, you have no life in you. 54 Whoever eats My flesh and drinks My blood has eternal life, and I will raise him up at the last day. 55 For My flesh is food indeed, and My blood is drink indeed. 56 He who eats My flesh and drinks My blood abides in Me, and I in him. 57 As the living Father sent Me, and I live because of the Father, so he who feeds on Me will live because of Me. 58 This is the bread which came down from heaven—not as your fathers ate the manna, and are dead. He who eats this bread will live forever."
These are some the verses that are understood so very differently in Protestant circles versus Catholicism, Orthodoxy, Lutheranism (at least the high church variety), Anglicanism, etc.
On the one hand, liturgical churches tend to be the ones who take these verses literally. It's a part of the doctrine of transubstantiation/consubstantiation. The bread and wine during the liturgy literally becomes the flesh and blood of Jesus (well, in a mystically literal sort of way - there are claims that some has been tested and found to be real blood and flesh but I have extreme doubts about such things) and then depending on your theology either remains flesh and blood until consumed or reverts to bread and wine when the spirit leaves.
I should say that whether or not this is true (on the one hand, if Jesus is God this is not outside of his abilities and on the other, kind of cannibalism? but it's a complicated topic and I'm trying not to stay up to all hours so we'll just leave it at this) at least liturgical churches have a great respect for Communion that I have found to be lacking in churches without a liturgy. I keep thinking of my parents' old church, where 'communion' was the most important thing in the church, something that brought everyone together, was Biblical, etc. etc. but only took place once a month unless it got bumped from the schedule for something more important.
Like a singing missionary group.
Or a video.
You can't see it, but I'm making a face. The lack of respect for communion is one of those things that leaves a bad taste in my mouth.
Wait, no, here.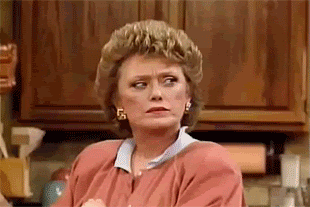 Once more, Blanche is me.
Anyway. And then Jesus loses some disciples because implied cannibalism. One of the arguments for the literal reading of the above verses is that if Jesus was speaking in metaphor why didn't he explain it to the disciples as they were leaving? He had, we suppose, a chance to correct this misunderstanding but he let it sit.
65 And He said, "Therefore I have said to you that no one can come to Me unless it has been granted to him by My Father."
I'm not into the idea of pre-destination, after all, what's the point of free will in a set up like that? But I imagine that this verse is one that is used to support that kind of theology.
70 Jesus answered them, "Did I not choose you, the twelve, and one of you is a devil?" 71 He spoke of Judas Iscariot, the son of Simon, for it was he who would betray Him, being one of the twelve.
And then we have Judas. Things don't turn out well for Judas, in the end.
He turns into a vampire.
Wait...wait...no, sorry. That's just a really bad movie.
It still doesn't turn out well for Judas.